Tim Chevalier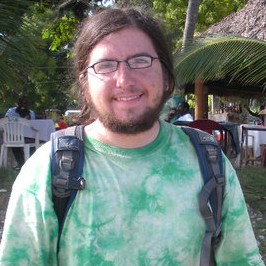 Photo by Lena Tenenbaum

To contact me, email mylastname at alum dot wellesley dot edu.
About me
Professional
"...Today's programmers still work in a world where changing tabs to spaces leaves them, basically, fucked."
-- Scott Rosenberg
I'm a research software engineer at Mozilla, where I work on implementing the Rust programming language.

I graduated from the University of California, Berkeley with a master's degree in computer science in 2004, and I graduated from Wellesley College with a bachelor's degree in computer science (minoring in mathematics) in 2001. From 2007-2011 I was working on a Ph.D in computer science at Portland State University, until I was pushed out of the department for protesting sexual harassment.
Personal
"Please don't leave us here alone in this silicon hell."
--Allette Brooks
I'm currently living in San José, California. I enjoy cycling, playing board games, writing, and reading.
"Normal is a weapon of mass destruction. It's just as deadly, and just like those weapons, it'll never be found."
-- Thea Hillman
I'm a man with a transsexual body, and occasionally I write about that, usually more in an armchair-social-theorist way than a personal way. Here's what I wrote in 2007 to announce my coming-out. My views have evolved since then; I'd summarize them now by pointing out that cissexual people get to self-report their gender without having to "prove" it by exhibiting their anatomy or genetic makeup, and averring that the same right ought to be extended to everyone.
Résumé
"Progress doesn't come from early risers -- progress is made by lazy men looking for easier ways to do things." -- Robert Heinlein
If you want to hire me, you could always read my résumé (PDF).
Academic
"But if you wish at once to do nothing and to be respectable nowadays, the best pretext is to be at work on some profound study."-- Leslie Stephen
Publications
Writing
Posters
Talks
Software
Currently, I put most of my time into the Rust project.
Software I've written and am willing to show in public lives on my community.haskell.org home page. I've also contributed a little bit of code to GHC and even less code to darcs. All of this is rather old.
Semi-useful information
The Male Programmer Privilege Checklist
As a male programmer who has spent a lot of his life getting perceived as a female programmer, one of the accomplishments I'm most proud of is hosting/maintaining the Male Programmer Privilege Checklist for five years (originally written by Kake, extended by me and others). The current version of the Male Programmer Privilege Checklist resides on the Geek Feminism Wiki (a most excellent resource in its own right).
Ubuntu on the HP Pavilion dv6000
Tips for getting Ubuntu to run on an HP Pavilion dv6000 laptop (c. 2007, probably quite out of date.)
My quotations file
"She had a pretty gift for quotation, which is a serviceable substitute for wit." -- W. Somerset Maugham
Things that I wrote
"I'm willing to show good taste, if I can, in somebody else's living room, but our reading life is too short for a writer to be in any way polite. Since his words enter into another's brain in silence and intimacy, he should be as honest and explicit as we are with ourselves." -- John Updike
Organizations I support
These are my favorite organizations that I regularly support; mainly financially at the moment, though that could change. If you have income beyond your and your family's basic needs, maybe you should support them too.
Everything else
Things people have borrowed from me (you don't care)

Things I want to read that don't have entries in All Consuming. (You probably also don't care.)

Last modified: February 23, 2013